Friends, 2015 has been another interesting and eventful year. Thanks to all who have supported this project. And thanks to my clients and friends who have afforded so many rewarding experiences and new (or renewed) lessons about life and business.
As I noted last year, so much of what I get to do is accumulate, translate, and distill your learning and then try to "pay it forward" to others. I get better as my friends and clients get better. What a distinct privilege to be a part of this transaction!
I do want to mention a couple of important business relationships that flourished in 2015 and I expect will continue to be critical to success in 2016.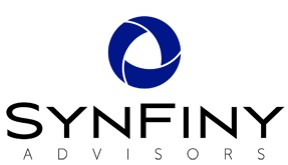 First is SynFiny Advisors, a Cincinnati based financial management consulting firm founded by former P&G colleague Jeff Wuest. In addition to my day job, I am now leading SynFiny's strategy practice and have been helping them with various client projects.
SynFiny grew steadily in 2015 by bringing to bear real-life, been-there-done-that experience to help clients transform the impact of their Finance & Accounting systems and organizations. I've gotten to tag along because more than a few SynFiny engagements turned up opportunities to work on overall strategy, bench-marking or competitive research. It's been fun to watch this very talented group of folks make real impact on their client's business.
If you have needs in Financial Planning & Analysis Transformation, Financial Systems Design, Shared Services and CFO support, SynFiny may be exactly who you are looking for!

Second is Aurora WDC, a Madison, Wisconsin based competitive intelligence focused firm led by brothers Derek and Arik Johnson. As a member of their G2 network, I continue to stay close to Aurora and will often refer clients to them when really thorough and detailed primary research is required. Aurora is among the best at executing this kind of work. They dig deep,  move quickly and efficiently, and deliver outstanding value.
I also like to recommend Aurora's intelligence software platform, First Light. While the range of available competitive intelligence systems has improved greatly over the years, First Light remains on the cutting edge. And every new client implementation leads to improvement.
Bottom line, you won't find a better group of people to work with in industry than the folks at Aurora.
And if you are starting to plan your 2016 calendar, let me suggest you join Aurora, the G2's and leading Competitive Intelligence practitioners at Reconverge:G2 April 19 thru 21 in Madison. It will be a great event!
So whatever your fears, hopes or ambitions, I wish you only the best in 2016. I look forward to sharing the experience.
"Once more unto the breach!"