… So pumps the ole' calliope.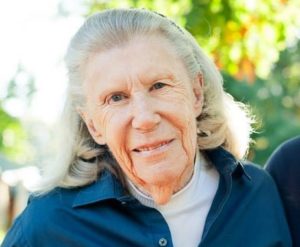 Sadly, there will be a new saint among their number.  We lost a grand and wonderful mother this past weekend. We will miss her, but she will add to Heaven's great complement. Of that, there is no doubt!
Louise John Brooks (Carrie Louise Murrell) died Friday, November 11th in Cincinnati. She was born December 20, 1920 in Taylorsville, Kentucky but moved to Erlanger as a child. She was the daughter of Grover and Eddie Mae Murrell and was preceded in death by four brothers and sisters:  Martha Whimpey, Virgil Murrell, Hattie Funderburk and Grover "Red" Murrell, Jr.
Louise was widow to Philip Preston (Pres) Brooks (2002-2015) and Arthur Victor John (1948-1984). She is survived by all of Mr. Brooks' children, grandchildren and great grandchildren, who all loved her dearly.
Louise graduated Lloyd Memorial High School in 1939, and attended the University of Cincinnati after the Second World War. During and after the war, Louise built a career as an administrative and executive assistant, working for various firms including Gibson Greeting, General Motors, and First National Bank (US Bank), capped off by 25 years at Central Trust (PNC).
In retirement, Louise was active in many charitable and volunteer causes. She volunteered at the St. Francis – St. John hospital (Mercy Queen City Medical Center) in guest reception. She spent more than 20 years as volunteer at Cincinnati Music Hall, eventually serving as supervisor of volunteers for Music Hall and Memorial Hall, serving The Cincinnati Symphony Orchestra, Cincinnati Pops, Cincinnati Chamber Orchestra, May Festival, Cincinnati Opera and Cincinnati Ballet. She was a founder and early board member of the Lloyd Memorial High School Alumni Association and remained active with the Alumni until her death.
Louise enjoyed family and friends, adopting many friends as family. She also had a passion for travel, visiting all 50 states and numerous foreign countries. Her favorite form of travel, however, was by steamboat, having made more than 20 trips on the Delta Queen and numerous trips on the Mississippi Queen and other paddlewheel steamers.
Memorial contributions may be made to the Lloyd Memorial High School Alumni Association Scholarship Fund, 450 Bartlett Avenue, Erlanger KY 41018-1685.